Elegant Angel
©2000 Lily M. Kerns
An easy paper pieced angel, designed for creative embellishment.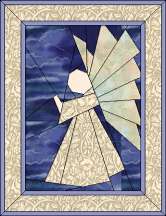 About Paper Piecing
Copyright considerations
Supplies and tools
Directions
Elegant Angel directions
About this pattern
This is an Easy FlightTM pattern which means that it is designed to be easy to make even though it is a "complex" FPP pattern with several sections.

The seam allowances on the outer edges of the block are 1/2" instead of 1/4". This will help identify the outer edges of the block. It also gives you a bit of leeway for trimming the block to exact size.
Inner subsections, if any, are indicated on the pattern and are marked with a symbol to identify which sides go together to ensure correct positioning.
Background areas are shaded for identification.
A glance at the printing on the pattern will tell which is the top or upward direction of that pattern section.
Each pattern page includes a mini-guide image of the pattern.
You will also find that there are few, if any, seams to match which means easier piecing and quilting.
Easy FlightTM patterns are designed to encourage imagination and creative decision-making.

When you see this symbol you will know that here is an opportunity to make this quilt truly your own and one of a kind--not one made by "just following a pattern" and looking like everyone else's.

With most Easy FlightTM patterns you don't have to sew on the lines! As long as you can sew a straight seam, you are free to make any changes you wish or use any accidents that happen. This kind of paper piecing adapts to a very relaxed, creative attitude toward your work.
In some places, changing the shape or size of a patch will significantly change the design. In other places it really won't matter, so use your own judgment. This IS your quilt, after all!

About Paper Piecing
Paper Piecing is all about precision piecing and perfect points--right? And to do this, you place the fabric on the back (unprinted side) of the pattern so that you can see the printed lines and sew on them to make your seams all perfectly in place. If I'm doing a block where precision is critical, I will probably do my paper piecing from the back.

Personally, I find this standard method to be both awkward and annoying--so I do things "backwards" and piece from the front, in a flip-and-sew style which lets me more clearly visualize what I want to do next. The directions given here are for that approach. However, most of my Easy Flight TM patterns lend themselves to either method, so if you are comfortable with our own way of paper piecing, feel free to place your fabric on the back and sew on the lines. The pattern will work either way, so use the method that suits you best.

There are probably as many versions of standard paper piecing directions as there are people to tell you how to do it, but if you need basic directions for FPP, please let me know via the discussion area. I usually check for messages very early in the morning and again in the evening.

Copyright Considerations

This is a copyrighted pattern and may not be copied and passed on to another person. However you may:
Make as many quilts as you wish from this pattern as long as not more than one is sold. For commercial use, please contact me.
Enter and/or display your quilts freely as long as the pattern source is credited.
Modify the pattern as desired for your personal use. You may NOT modify the pattern and sell it as your own work.

At the present time, Elegant Angel is available only as a Quilt University class. If you wish to teach this pattern in a local class for those not having computer access, please contact me. E-mail
Supplies and tools
Tools: (For more details, see below.)
Sewing machine, scissors, and the thinnest pins you can find,
Paper on which to print or trace the pattern
Optional: fabric glue stick, light table (Feel free to ask questions in the discussion area about the tools others use.)
Fabric: The Elegant Angel block needs 4 fabrics-- garment, wings, background and scraps for face and hands. You may also wish to add border fabric(s).

Before you select your fabrics, however, think about some inter-related questions.
What do you want to make? Do you want to learn to FPP? Are you testing the pattern? Any cotton fabric may be your best choice. I think one done in all white with gold quilting and embellishment could be very elegant...
What size do you want to make this? The pattern file is for a 6" x 10" block. This means the block includes some rather smal pieces. You may enlarge the pattern to any size you wish. Make a larger block that keeps the angel in the same proportion by adding inner borders of background fabric. The size question is important, not just because it determines how much fabric you will need, but because the scale of the fabrics you choose needs to match the scale of your block. As a general rule, the smaller the block, the daintier any fabric pattern needs to be.

For the small block, fat quarters will be adequate, plus your backing, border and binding.
Will this quilt block be washed? If so, it obviously restricts your choice of elegant fabrics.
How elegant do you want to get? There is no reason at all why this block couldn't be done in plaids and homespun, if you desire. Personally, I liked the effect of batiks for the background and lace fabric layered over plain fabric for the gown and wings.
On the other hand, because this is paper pieced, you can explore some fabrics you may never have used before. I looked in one of the chain stores and found: organza, tissue lame, printed voile, a sheer with gold stars, lace fabric, wide lace in rolls, and sequined fabric. Any of these could have been used for an overlay skirt and/or wings.
I found satins, brocades and crepes that would make elegant gown pieces. In the drapery and upholstery departments I found wonderful subtly colored and textured tapestry fabric for backgrounds (on which the angel pieces could be appliquéd), sheer curtain fabric and laces that would be great for a larger block.
Lace would make an interesting background, too. I've got my eye on a navy lace remnant (you'd think by now that I would know that if I decide not to get something like that--I will wish I had...)

Homespun, calico, batik, drapery or wedding fabric--whatever your choice, it will give your angel a character of her own. And then, of course, there are all the embellishments--beads, braid, glitter, paint, "hair", etc. Look in the Gallery to see some of the effects possible with different fabrics--and the ones I've shown you are all EQ4/Stash images which are only quilters' cottons!

Oh, yes--in case you didn't already catch the point--there is no rule that says an angel has to be done in white--or that you can make only one version....
Directions
Printing the pattern: Print the pattern pieces on the lightest weight paper that your printer will handle. I prefer cheap typing paper --if I can find it. Set your printer to print a bit heavier than usual, if possible, so the lines will be more visible from the back. Or, if necessary, trace the sections on cheap newsprint, tracing paper, freezer paper, special paper designed for FPP, muslin, washed dryer softener sheets-- or whatever works best for you. Again, feel free to bring your questions to the discussion area.

Please remember that if you will be sewing your seams on the printed side with the fabric on the back, as traditional directions tell you to do, the sewn block will be reversed.

Setting your sewing machine In general, you may wish to use a slightly larger needle than usual (although I never bother) and set your stitch length shorter. This perforates the paper more closely and makes it easier to remove when finished. If the paper tears and falls away in handling, lengthen the stitch slightly.
My best advice on this is to experiment first--and then select the shortest stitch length you are willing to take out if necessary.

Fabric grain: The paper stabilizes the block, so the grain is not as important and I don't worry about it. I do pay close attention to the direction of the pattern of the fabric if this is important to the design, and it over-rides any grain considerations.
However, when possible, I prefer to cut the patches that come to the edges of the pattern so that they will finish on grain. (See my flip and sew directions for the pattern)
I find this especially important for corner patches. If I can't do this, I usually run a basting seam around the edge of the block, in the seam allowance, and remove it when the blocks have been sewn together or the borders added. If there are a lot of seams coming to the edges along the sides, I may baste just the corner pieces.

This lesson will give you the information you need to get you started on making the subsections of this pattern. Each kind of fabric will have its own working characteristics, so please direct your questions to the discussion area if you find something you are not sure how to handle. And don't forget to tell the rest of us about the neat fabric and embellishment ideas you come up with.

Since this class group will include students from all over the world, please don't be afraid to ask for explanations of anything that isn't clear to you.
---
Elegant Angel Lesson One:
Introduction Section A Section B,C,D Section EF