As preacher's kids, growing up in a parsonage,
 we always envied other kids who had attics--
	those wonderful rainy-day storehouses
 		of forgotten treasures,
			beautiful memories--
				and just plain stuff.
I'm now retired--and I still don't have an attic --
	so I've created this 
Virtual Attic
Look in the desk for poetry, meditations and who knows what else.

Check the photo album for nature photographs.

In the trunk you will find quilts, patterns, lessons and probably some UFO's (unfinished objects).

You will also find a list of classes (with project photos) that I am currently teaching at QuiltUniversity.com.
This is one of them: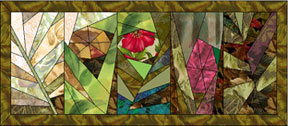 Ozark Garden


Patterns from the "My Ozark Garden" quilt which I designed for the Ozark Piecemakers Quilt Guild are available exclusively at Quilt University in this class which will be offered again in 2005.
This quilt received a second place at the Internatonal Quilt Festival in Houston, 1999, was exhibited at Paducah, and again received a 2nd place ribbon at the National Quilt Association show in Tulsa in 2001.

Under the quilting frame you'll find notes for quilt programs and creativity lessons I have taught.

On the easel , there are some digital paintings, some art lessons for kids and maybe some doodles.
Kaleidoscope Plugin experiments

In my journals , you will find some of my favorite places on the web.

Tucked away in a box --who knows!
Welcome to my attic!
---
It takes a while to collect an attic full of stuff. It will take a while to get this organized, as well. So please do come back and see what else has been added.